NIRVANA COLUMBARIUM BLOCK C
Nirvana Columbarium Block C
Nirvana Columbarium Block C (Ju Fu Dian) is currently 4 stories high, with a total of 10 niche suites of different designs and styles. The suite here are relatively new, and the design is relatively modern. Block C also has 3 free thinker-designed niche suites suitable for customers of any religion.
Nirvana Singapore will launch the new Columbarium Suite 90 in November 2021. This suite is suitable for most religions, such as Christian, Catholic, Buddhist, Taoist and Free thinker. Suite 90 will be mainly white and light blue, concise and generous, and the door panel with a light blue roses and butterfly it gives a very cosy and purity feel to the suite. 
SUITE 60 is currently the lowest price single niches room at Nirvana (Singapore). The door panels are mainly white and gold. White symbolizes purity and calm, while gold symbolizes warmth and memorial. Each door has a portrait of Amitabha, which means that the Buddha lived with his ancestors and blessed all his family members. In addition to the carpeted and fully air-conditioned design, Buddhist scriptures are also played continuously here. In addition, Suite 60 also has a free An Ling for forty-nine days.
The design of SUITE 71 is mainly based on the Amitabha Buddha statue. The door panel is decorated with bright white piano paint and matte bite patterns. The most special thing is that there is a small golden Buddha statue and a piece of Bodhi Leaf in front of the door panel. A beam of light shines directly on the small golden Buddha sitting on the lotus platform, metaphors the Buddha's bright wisdom of enlightenment under the Bodhi tree.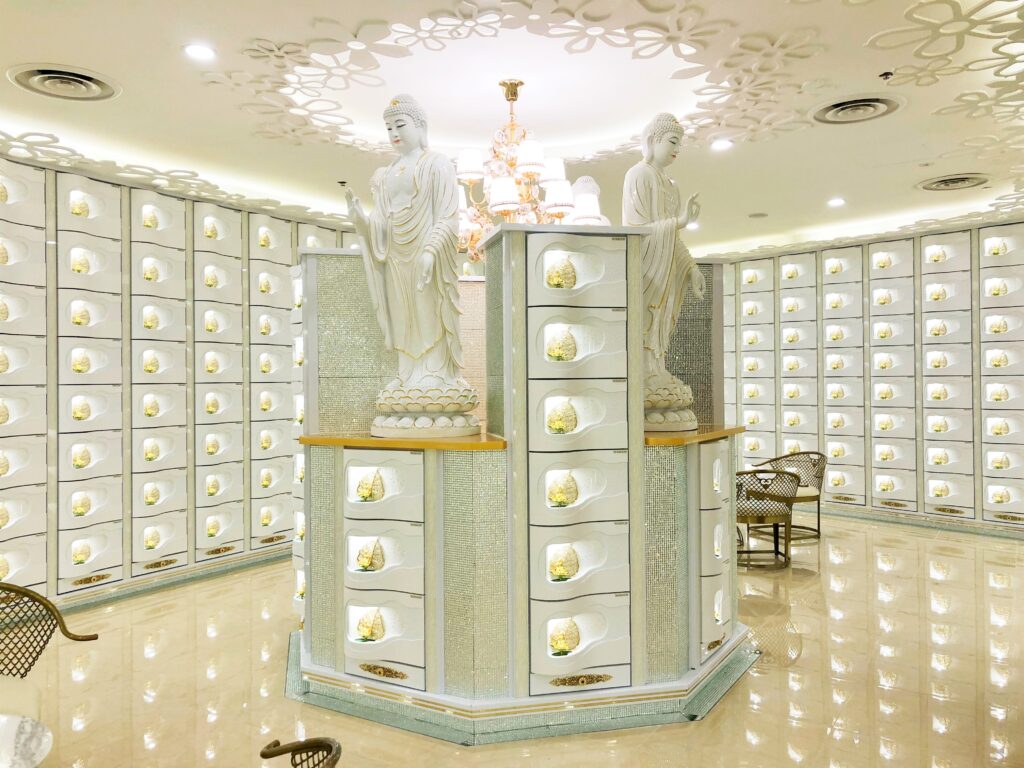 SUITE 66 is made up of 3 pavilions. The two left and right pavilions are mainly made of white and silver, while the middle pavilion is mainly designed in gold. In front of each door, there is a 3D Bodhi leaf design and a small Buddha statue of Sakyamuni Buddha.
SUITE 73A is mainly designed in all white. White symbolizes purity and peace. The characteristic of this pavilion is its vast space. The door panel is designed by the head of Sakyamuni Buddha.
SUITE 80 is mainly designed in white, and each door has a golden peony flower as an embellishment, symbolizing wealth and perfection. This is one of the free thinker-designed pavilions suitable for any religion.
SUITE 73 is a free thinker columbarium niches. It is mainly designed in all white. The door panel is decorated with two lilies and crystal diamonds, which makes people feel peaceful and calm.