Part 1 – The Importance Of Funerals
In some cultures, funeral services are known as memorial services or celebrations of life, and they are a beautiful way of acknowledging, celebrating, and remembering the life of a loved one. A funeral may bring comfort and peace to those who mourn, bringing people together to share their sorrow, joy, and memories of their loved ones.
Why do Funerals Matter?
According to researchers and psychologists, attending a funeral can help counter the effects of grief like shock, numbness and disbelief. Funerals reinforce the reality that the death actually took place, so they are an essential part of grieving. The following reasons highlight how important funerals are for grieving:
1. Funerals help us to accept the reality of the loss of a loved one.
As human beings, it's only natural for our minds and heart to rebel against the death of someone we love at first. It can be difficult for us to accept the loss of someone we love. A funeral's main purpose is to help us cope with the passing of someone we love. Accepting what has happened is the first step to healing and grieving. Mourners have the opportunity to begin processing their grief when they attend a healing and meaningful funeral. Having a funeral service is one way to cope with a new reality – one without our loved one.
2. Funerals help us to remember the departed.
Remembrance is one of the most important aspects of a funeral. There are ways to do this in the eulogy, in the tribute video, in the readings and songs chosen, and in the gathering of friends and family following the service. When we recall and share our relationship with a loved one, we help ourselves cope with loss. In order to move forward in our grieving process, we must reminisce and revisit our memories.
3. Funerals offer emotional support.
In times of vulnerability and loss, funerals are central to the process of mourning, grieving, strengthening social ties, and increasing social safety nets. Additionally, they reflect our shared human experience of love, connection, and what it means to be human. The ways in which these are observed vary widely around the world. Nevertheless, each one of these has a common infrastructure of bonding and bringing people together.
We need to let our grief surface, and funeral services provide a safe, appropriate platform to express and share our feelings, setting the foundation for 'good grief' or healthy mourning.
The Complete Guide To Funerals
There are several ways to celebrate a deceased person's life, and each can be specifically suited to the individual being honoured, as well as their family. When a loved one passes away, you may be wondering what kind of memorial service to hold. It may be helpful to know the difference between a traditional funeral and a memorial service. Perhaps you would like to pre-arrange your own service in order to ease the burden of your loved ones and to make sure it will reflect the unique life you lived. Learn all about funerals in this guide, including the different types of funerals, what happens after a funeral service, and tips on dealing with loss.
What to Expect at Funerals
The nature of the funeral depends on the culture, religious beliefs, and wishes of the deceased and their family. Typically, funeral or memorial services include prayers, readings from important faith texts, songs, and a message from a spiritual leader about death or its significance in the life of the deceased and his/her family. Sometimes, eulogies are given by close family members, friends, or spiritual leaders, and they share memories, stories, and reflect on the life, accomplishments, and relationships of the deceased.  Most funerals happen anywhere from three to five days after the death, but the length of time varies based on medical conditions and cultural or religious beliefs.
For instance, many Buddhist families will host a wake in memory of a loved one. If a wake is held, the body is usually displayed in an open casket, with the deceased dressed in casual, everyday clothes. In Buddhist funerals, a portrait of the deceased person will likely be displayed in front of the casket. It forms the centrepiece of the altar that is set up by the family at the wake. Candles, flowers, fruits, and incense may also be found on the platform.
Buddhist rites and sermons might be delivered by monks during the funeral service. Monks and laypeople may both chant during a Buddhist wake, and military rites or fraternal rites may also be observed.
At Nirvana Singapore, our team is devoted to providing professional, detailed, comprehensive, hassle-free funeral services to all clients during their most difficult times. Our benchmarks for success are professionalism and quality of service. Learn more about our funeral services here.
Part 2 – The Reality of Funerals
Different Types of Funerals
Perhaps you are unsure of the kind of funeral service you want for yourself or a loved one. Among the services available are traditional funerals, wakes, visitations, memorial services and celebrations of life. People often choose to remember their loved ones with more than one of these events. An important part of remembering someone is organising a unique service that suits their personality and reflects what they valued most.
1. Traditional funeral service
A traditional funeral is usually conducted by an officiant of a church or director of a funeral home. The traditional funeral typically has a formal mood and follows a traditional program. They usually include hymns, traditional songs, eulogies, and readings, including poems and verses.
Funerals can be held in funeral homes or religious places, like churches or temples. There is usually an open casket. In the event of cremation, funerals may be held with closed caskets or with an urn present.
2. Memorial service
Funeral services without a casket or urn are called memorial services. Memorial services honour the life of a loved one and can be held months or even years after someone has passed away. They are similar to traditional funerals and can be held at any time.
3. Wake
Wakes are typically less formal than funerals. Depending on the circumstances, a wake can take place at a home or in a funeral home in preparation for or as a substitute for a traditional funeral. Wakes often follow an "open house" format, making it possible for guests to come and go within a set time period, reminiscing, comforting one another, and providing support. Oftentimes, food will be served and music will be played. There may or may not be a casket or urn at the service.
4. Visitation
Visitations offer the family of a loved one the chance to receive visitors and talk with and comfort friends. Both family and friends can pay respect and give a sense of closure to a loved one at this time. Open caskets are common at visitations. It is common practice to have a visitation period the day before and immediately after a funeral.
5. Celebration of life service
Celebrations of life are often less sombre and formal in nature than traditional funerals. In a celebration of life service, the unique aspects and characteristics of the individual being honoured are celebrated. Families can choose to have traditional or non-traditional services, such as a funeral with commemorative photos displayed to a beachside dinner where friends and family gather in a place that was dear to the loved one being remembered.
The Different Cultures of Funeral Rites in Singapore
There are different funeral customs and traditions in Singapore, due to its multicultural and multiracial landscape. Being familiar with the appropriate funeral customs, taboos, and etiquette is essential. No matter what background you come from, learning about the different ways funerals are handled in different cultures will make you a more empathetic and knowledgeable person.
It is important that you demonstrate respect to the family of the deceased. Moreover, you might learn something new about your own culture's approach to funeral preparation and funeral service. For example, if you are a Chinese individual, you are probably familiar with the different types of Chinese funeral practices.
Following are the different types of funeral services in Singapore:
1. Buddhist funerals
In Buddhism, many believe the soul is reborn after someone has passed away from this life. Therefore, Buddhist funeral rites are conducted in order to assist the deceased's transition into a new existence. There are some families who adhere strictly to Buddhist funeral rituals and traditions. The funeral services and rites of a Buddhist may also draw on aspects of other religions and cultures. In the end, the funeral service should be used to generate positive karma for the deceased, so that his/her subsequent lives will be blessed or that he/she will escape the cycle of samsara and achieve Nirvana.
2. Taoist funerals
According to the preferences of the family, Taoist funerals can be either very elaborate or very simple. The rituals and procedures of Taoist funerals have a lot of details and every ritual has its own significance.
There are different rituals and procedures for Taoist funerals depending on the dialect group, such as Teochew, Hokkien, Hakka, Cantonese, and Hainanese. While rituals and procedures may vary, they all aim to remind the living of the importance of filial piety, to help the deceased repent of the sins they committed during their life and be pardoned by the deities, and to make the deceased soul's passage to the next world as smooth as possible.
3. Catholic funerals
There are many traditional customs and rituals involved in Catholic funeral service in Singapore. In Catholicism, there are three realms of existence: Hell, Heaven, and Purgatory. Those are the three final resting places where a person will end up after passing away. During a Catholic funeral, a wake is held for the family of the deceased. During the wake, close family and friends of the deceased will visit to pay their respects. A vigil is held in the memory of the deceased for the family members to express their sympathy.
4. Christian funerals
A Christian funeral service honours and commemorates the life of the deceased. As Christians believe the departed have entered Heaven with God, funerals typically include prayer and worship services. A Condolence Book is available for guests to leave their condolences. The family then reads these messages to grieve and heal.
5. Islam funerals
The Islamic funeral rituals are conducted according to their religious laws, which are commonly referred to as Syariah. In their culture, it is important and traditional to handle the body with care.
The body of the deceased is washed and wrapped in shrouds as part of the Islamic traditional funeral rituals. Muslim law and religious tradition allow family members or someone of the same gender to perform this procedure. To ensure that the body is clean, the body is washed three times with water. Then follows kafan, the covering of the body. Plain white cloth is wrapped around the body and scented with sandalwood powder, non-alcoholic perfume, and camphor. Not only is this a ritual, but it also represents a sense of dignity and privacy for the deceased.
Next, the funeral prayer is performed according to Islamic rituals. Congregations perform the prayer for the deceased, known as jenazah. The jenazah funeral tradition must be performed at the family's home or at the mosque. The procession is led by an Imam while facing the direction of Mecca. The burial concludes the funeral rituals. An Islamic burial involves placing the body in a coffin and bringing it to the cemetery.
In order to bury the body, it is gently lowered into the grave without a coffin. The body is oriented towards Mecca. The grave is then fully covered with soil. After the funeral rituals have concluded, a funeral sermon is delivered at the graveside.
6. Freethinker funerals
As opposed to religious funerals, free thinker funerals are highly flexible. As far as preparations for a funeral go, it totally depends on how the deceased lived, what his or her values were, etc.
When a family experiences a loss, Nirvana Singapore offers nothing but support and the best bereavement care. Our goal is to make sure that every aspect of the funeral is handled in the best way possible so that you can fully grieve and heal from your loss.
Funeral Planning in Singapore
Singapore has a reputation for being a very expensive city. Despite this, we can adjust our lifestyles to make more frugal choices and live within our means.
But, what happens after our deaths? In this expensive city, can we perform our funeral rites in a way that reflects our lives – with dignity and frugal living? Fortunately, we can.
This is a complete guide on how to hold a funeral in Singapore, as well as giving your loved one the proper send-off without incurring too much debt in the process.  
It is essential to obtain the Certificate of Cause of Death (CCOD) within 24 hours after the death. It is either issued by a doctor who is present in the hospital or a doctor who visits you at home when someone dies at home. When the cause of death is known and the death is natural, doctors can issue a certificate of cause of death.
A doctor will refer the matter to the police if the cause of death cannot be determined or it resulted from an unnatural death. Family members will be notified when to go to the mortuary after the body is sent to Mortuary@HSA.
It is necessary for you to bring these items:
Informant's identification papers, such as NRIC/ passport
Deceased's identification papers, such as NRIC/ passport/ birth certificate
Medications and medical documents of the deceased
An autopsy may be required after the coroner reviews the circumstances of the death. Following the coroner's decision, the next-of-kin will be informed when the body can be claimed.
Step 2: Certificate of Cause of Death
The Certificate of Cause of Death will be issued at no charge if your loved one passed away in the hospital.
For example, if the deceased received palliative care and passed away at home, you will need to get a doctor to certify the death. This could cost between S$200 and S$300.
Step 3: Engaging a Funeral Director
Step 2 and Step 3 can be completed simultaneously.
There are several places where death registration can be completed:
At the Government Restructured Hospital
(if death occurred there)
Any Neighbourhood Police Centre/ Police Divisional Headquarters
(all other deaths)
Registry of Births and Deaths at the Immigration and Checkpoint Authority's (ICA) Citizen Services Centre (View the address and opening hours at www.ica.gov.sg) Register a death by visiting ICA | Register and Collect Death Certificate
You will need to bring the following:
Certificate of Cause of Death (CCOD)
Identification papers of the deceased and the informant e.g. NRIC/ Passport/ Certificate of Registration of Birth/ FIN card
Step 4: Placing an Obituary (optional)
Obituaries appear in local newspapers as public notices of death. The NEA website provides contact details for local newspapers where obituaries can be placed.
Step 5: Arranging the Wake and Funeral
Families, friends, and acquaintances attend funerals and wakes to pay their respects to the deceased and comfort the grieving. It is possible to hold the wake at your home or at the funeral home. Alternatively, the wake can be held at the void deck. The following permissions are required:
Town Council: To obtain a permit to hold the wake at the void deck
Land Transport Authority: To use part of the road near your landed property
National Environment Agency: To hold a funeral wake for more than seven days
If you are planning a wake or funeral, your funeral director will handle the logistics. This involves getting the necessary approvals, setting up a funeral parlor, and arranging for prayers, among other things.
Step 6: Preparing for Burial or Cremation
Cremation and burial can be booked online, through the booking office, or over the phone. The National Environment Agency (NEA) has contact information for the relevant offices and fees involved.
The following documents are required:
NRIC of the applicant and next-of-kin
Original Death Certificate (which contains the Permit to Bury/Cremate)
Benefits of Funeral Packages
According to most traditions, the deceased should be buried or cremated within one week of their death. In other words, even though you are grieving, it's imperative that you prepare for the funeral. It is important that you enlist the help of family members and friends in planning the funeral service.
To determine the budget for the funeral ceremony, you must consider a funeral package. Here are some reasons for choosing a funeral package in Singapore.
1. Cost-effective
It may seem cheaper to plan on your own. In reality, funeral packages include several important elements that you may overlook when planning your funeral. Moreover, different packages are available according to your financial situation. Before choosing a funeral package, consider whether it meets the deceased's or family's wishes. Comparing quotes from different funeral directors can help you find the best package.
2. Logistics are handled
A dignified funeral service requires a lot of planning. Due to the short timeframe, this can be difficult for the family. The benefit of choosing a package is that these tasks are included in the package. Among the logistics are liaising with cemeteries, arranging floral arrangements, embalming, video recording, tents, chairs, and tables. It is a good idea to check on the specific services included in the package as these vary from one funeral service provider to another.
3. Stress-free
There is less stress when you choose a funeral package. The casket, hearse, body preparation, and embalming services will be handled for you. As soon as the service provider is hired, they are in charge of making sure everything is carried out according to the family's requests.
At Nirvana Singapore, we offer a variety of funeral services and products, including caskets, urns, cremation memorialization products, Taoist and Buddhist handcrafted paper models, flowers, catering services, photography, and more. In addition to our funeral homes, we also provide services at churches, third-party owned funeral homes, and in the homes of our customers. We customize our funeral packages to meet the needs of our customers, taking into account their cultural and religious practices.
There are two types of funeral packages available to our customers: as-needed and pre-needed. Those who need an immediate funeral service upon the death of a loved one can take advantage of our 'as-needed' products and services. For clients who wish to preplan their own or their loved ones' funeral services, we offer our 'pre-needed' products and services. Get in touch with us at +65 6397 2272 to find out more about our funeral service packages.
Buddhist Funeral Day Proceedings – What you Should Know
Buddhism believes that the soul reincarnates after death. Buddhism views death as a natural part of the cycle of life and believes that the way we act throughout our lives will determine our future lives through reincarnation. Many Buddhists seek liberation from the cycle of birth and death so they may reach the state of Nirvana.
Although Buddhism takes many forms, one principle they all tend to share is the belief in reincarnation. It is the foundation for many Buddhist funeral practices.
Buddhist Funeral Customs
In Singapore, there are two main types of Buddhist funeral customs: Mahayana Buddhist Funeral Customs and Theravada Buddhist Funeral Customs. Typically, the latter group includes Buddhist monks from Thailand, Sri Lanka, and Burma. During a Buddhist wake, families often pray to a Buddha statue and Buddhist chanting plays a significant role in the procession.
The Buddhist funeral package custom includes a Buddhist monk delivering a sermon and performing Buddhist rites. Alternatively, someone else can conduct the service. By performing rituals such as pouring water into an overflowing cup, preaching, offering cloths to the presiding monk and giving almsgivings by family or other mourners, the merit gets transferred to the departed. The following are some steps to follow:
Chant the appropriate prayers
They should walk with sticks to symbolise that grief has left them in need of support
The air should be sweetened by burning incense
Floral and fruit offerings
They should ring bells or gongs
To pay respect to the deceased at the altar, guests light one single joss stick at a funeral wake. There is no limit to how many joss sticks may be lit. In general, only one stick is lighted at a time. As a sign of appreciation, the family members bow after the guests pay respect at the altar.
Monks usually chant during the first day, the last night, and on the day of a funeral. A short chanting session will precede the cremation. Afterward, the cortege proceeds to the respective crematorium or burial ground.
Part 3 – What Happens After
What Happens During A Cremation?
When cremation is performed, the body is placed in a wooden container or container made of another combustible material. In a cremation chamber, the body will be exposed to flames, high temperatures, and evaporation. The high temperatures will vapourize the organic matter and burn the bones, reducing them to fragments within two hours. When the fragments have cooled, they can be ground to a finer consistency before being presented to the deceased's family.
Where Can You Have A Cremation In Singapore?
When choosing a cremation location, there are a few options to consider. Choose between two privately-run crematories or a government-run crematorium. The Mandai Crematorium and Columbarium Complex, located at 300 Mandai Road, is a more affordable option.
Make sure you carefully review the terms and conditions available on the NEA website before making a booking.
The Kong Meng San Phor Kark See Monastery, located at 88 Bright Hill Drive, and Tse Toh Aum Temple, located at 601 Sin Ming Drive, also offer private crematoria for Buddhists and Taoists. Both crematoria are more expensive than state-run ones, and you might pay more based on the type of urn and the location you select.
Storing Ashes In A Columbarium
Cremated remains are typically stored in a columbarium after cremation. You can reserve a niche at a columbarium of your choosing with the help of your funeral service provider.
In Singapore, the two most popular columbaria are the Mandai Crematorium and Columbarium Complex and Choa Chu Kang Columbarium. Alternatively, you can choose any private columbarium in Singapore, such as our Nirvana Columbarium.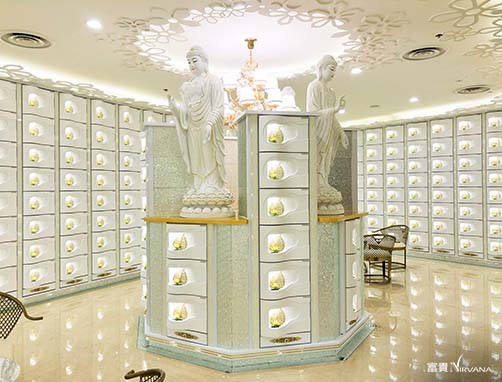 The Nirvana Memorial Garden is the first private columbarium in Singapore to integrate traditional Chinese culture with contemporary architecture, combining Buddhist, Taoist and Confucian teachings, with the objective of preserving time-honoured rituals while enhancing quality of afterlife care.
A freehold niche was also recently released in Lin San Temple, so your departed loved ones can rest in peace for years to come without being relocated or going through exhumation. Lin San Temple niches, crafted according to fengshui principles, make sure your loved ones rest in blissful eternal rest.
All you have to do is bring along your NRIC and the departed's Death Certificate to book a private quality niche.
Ashes of the Departed
Ashes of the deceased are a matter of personal preference for every family. The options in how we can manage our ashes have expanded over time. Here are the options available in Singapore today:
Stored in a columbarium
Stored at home
Scattered at sea via a sea burial
Inland Ash Scattering (IAS)
Incorporated into specially designed products (e.g. keepsake jewellery)
In light of this, the two most common options are:
1. Storing the ashes
The ashes can be kept at home or in a columbarium. Singapore has several government-managed and private columbarium.
In order to reserve a niche (a place to store the ashes), you will need your NRIC and the original Death Certificate of your loved one. Columbarium managed by the government can be booked online, and private columbarium can be contacted directly.
2. Scattering the Ashes at Sea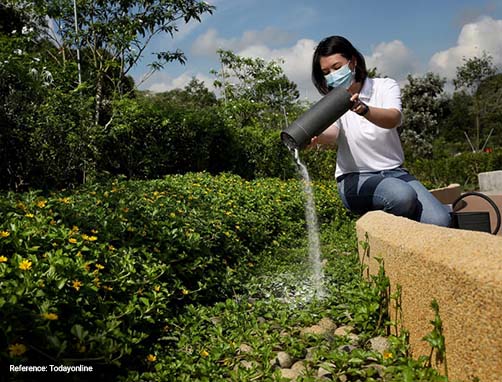 At the approved spot 1.5 nautical miles (2.8km) south of Pulau Semakau, you may scatter the ashes at sea.
The service is available from 7am to 7pm daily. If you need assistance scattering the ashes at sea, please contact the Port Marine Safety Control Centre at 6325-2488.
The inland scattering garden at Choa Chu Kang Cemetery Complex may be an alternative option. Each family is given two hours to perform the rites and scatter the ashes, with fees incurred. The garden is open from 9am to 5pm daily. To learn more, visit NEA's website.
Learning to Cope with Loss
Grieving over the loss of a loved one is never easy. Particularly if the death was sudden or accidental, your reaction to the event will be influenced by its circumstances. Your relationship with the deceased also plays a role.
The process of coping with death is vital to your mental health. Grief is natural when someone close to you passes away. Allow yourself time to grieve. There are several ways to cope with your grief.
Look for people who care. Reach out to family members and friends who understand how you feel. Find support groups where others have experienced similar losses.
Express your feelings. Grieving will be easier if you share your feelings with others.
Keep your health in check. Keep in touch with your family physician and make sure you eat well and get plenty of rest. Take care not to become dependent on medication or alcohol as a way to cope with your grief.
Put off major life changes. Hold off on making any major changes, such as moving, remarrying, changing jobs or having another child. Give yourself some time to adjust to your loss.
Be patient. The process of absorbing a major loss and accepting your changed life can take months or even years.
When necessary, seek external assistance. Seek professional assistance if your grief seems overwhelming. Seeking assistance is a sign of strength, not weakness.
Part 4 – Conclusion
Funerals help us cope with the loss of those we love. Acceptance is the first step toward healing and grieving. In attending a healing and meaningful funeral, mourners can begin to process their grief. A funeral service can help us cope with the new reality of losing our loved one.
Dealing with the loss of a loved one is already difficult, which is why ensuring a seamless funeral process from start to finish is essential, and that's where having a reliable and reputable funeral service provider can be very helpful. Though dealing with death is never easy, wounds will heal and it will gradually become easier with time.
With Nirvana Singapore, you'll find funeral service and solutions ranging from prayers to exhumations to columbarium. Nirvana Singapore is located at old Choa Chu Kang Road, facing southeast. A Feng Shui architectural layout we have chosen for our building is the "sky dome," which balances both the yin and the yang. The building itself is divided into three major buildings.
Nirvana Singapore's central main hall (Block B) has a square shape, with a wide open entrance and a jade belt pathway encircling it. This allows the gate's entrance to have the optimal Feng Shui setup for the most prosperous flow. Also housed in our premises is Singapore's first six-star columbarium, a modern design blending traditional Chinese elements.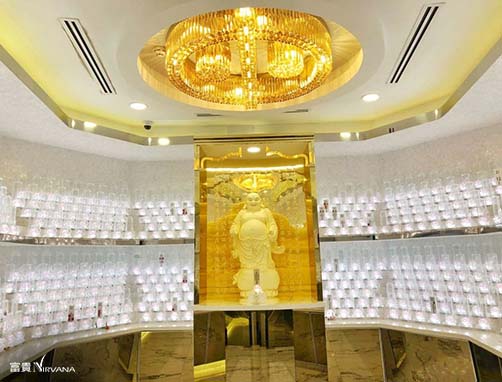 A traditional symbol of ancestral worship, ancestral tablets are deeply rooted in Chinese history. Traditionally, Ancestral Pedestals occupy the center of an altar in a Chinese home. For couples and young families who do not have time to conduct worship rituals at home, the ancestral pedestals in Nirvana Memorial Garden are a good alternative. You can pay tribute to your ancestors using our beautiful Ancestral Pedestals.
Plan a beautiful, personal remembrance for your loved ones today with Nirvana Singapore. To learn more about our quality funeral services, or to schedule a private tour and experience Nirvana Columbarium, please contact us today.