The loss of a loved one is never an easy period, and families would undoubtedly wish to send them off the best way possible through a funeral home that suits their needs and can be relied on to see the entire process through from start to finish. Whether you're in the midst of planning a funeral service for your loved ones, or preparing one for yourself in future, identifying a good funeral service provider is integral to ensuring that the funeral will go on smoothly all the way through. Here are some qualities to look out for when seeking out the best funeral services in Singapore.
Good Reputation
The way you'd choose funeral services in Singapore isn't much different from the way you'd assess other kinds of services. Reputation takes a lifetime to build but only one bad experience to completely destroy, which is why this is also a good benchmark when you're trying to decide on the right funeral service provider — and what better way to do so than to glean off the experiences of other clients. Was the funeral smooth-sailing? How helpful were the funeral service staff? How supportive were they towards the family? These are just a few of the many aspects that determine the reputation of reliable funeral services in Singapore.
Commitment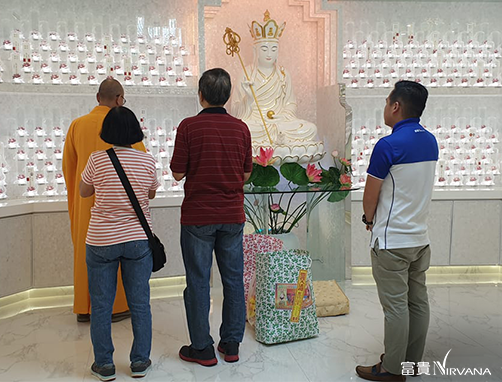 Grief is a difficult emotion to handle, and at a time when grief is amplified, it's easy to let it get the better of you in that moment. This is where a strong external support system is needed to keep everyone together. Good funeral service providers often exemplify this by employing kind, empathetic, and committed staff who will be there for the family during the entirety of the funeral, often going the extra mile to extend any help necessary. It's also helpful to understand the mission and values of a funeral service provider to get a better sense of how they're oriented, and what exactly they're committed to. After all, you'll want a funeral to be in safe hands. Here at Nirvana Singapore, we go to great lengths to ensure that grieving families are well taken care of during their bereavement, and that the departed are tended to diligently, even at their final resting place at our columbarium.
Quality Service
In order to conduct a smooth funeral service, many aspects need to be considered. Is the funeral home well-kept and clean? Can the funeral service provider accommodate various religious and cultural needs? What are some of the post-funeral services included in the overall package? Whatever your requirements are, ensure that your funeral service provider has them all covered as much as possible. With Nirvana Singapore, you can expect quality services before, during, and even after the funeral. We cater to Taoist, Buddhist, Christian, and freethinker funerals, ensuring that all religious funeral rites are adhered to — for Taoist and Buddhist families, post-funeral services like An-Ling are also observed by dedicated on-site staff at our columbarium, which also comes with excellent Feng Shui. Additionally, Nirvana Singapore's price range is perfectly reasonable for families from all walks of life. We also offer flexible, 0% interest instalment plans for up to 48 months; after all, finances shouldn't be what's stopping you from giving your departed loved ones the send off they deserve.
Here at Nirvana Singapore, you no longer have to grieve alone — let us take care of you and your family during a time of sorrow. For more information about our funeral service packages, please visit our website.