Ancestral tablets are an essential part of many Buddhist households for various reasons. For one, it is a symbolisation of their spirits and the focal point for the descendants to honour their deceased ancestors. This is viewed as an important trait of filial piety for many. Food offerings and prayers are also made to these tablets.
Buddhists and Taoists believe there are 3 spirits that reside in the human body. After they depart the human world, the first spirit (Jue Hun) will reside in the ancestral tablet, while the second spirit (Sheng Hun) will reside in the columbarium niche, and the third spirit (Ling Hun) will enter the six realms of existence where they will expiate any karma they have accumulated this life. These spirits will not "disappear" with the human body when someone passes away. Instead, they will find new holding spaces which is why it is so important for descendants to arrange for a columbarium and ancestral tablet for their departed loved ones.
While these ancestral tablets can be placed at home, Singapore's limited living space, coupled with the busy lifestyle of most working adults, makes it difficult for them to keep up with the regular maintenance required. To solve the issue of time and space constraints and ensuring regular maintenance and proper rites, perhaps it's time to consider placing your ancestral tablets at Nirvana Singapore's columbarium instead. Here are several reasons why.
Better Feng Shui
If you're someone who is particular about Feng Shui, you'll know how difficult it is to find a home that fulfils all five elements of Feng Shui. However, here at Nirvana Singapore's columbarium, you will find these five elements in abundance — Metal (statue of Buddha); Wood (the bamboo forest that surrounds the columbarium; Water (the lively flow of water features); Fire (our 9 tuned Fortune Bells); and Earth (the ashes of those resting in the columbarium). In particular, those 9 Fortune Bells placed in the middle of the hall help fuse the five Feng Shui elements together and create strong Feng Shui blessings to both ancestors and descendants alike. Great care has also been taken such that the terrain resembles an auspicious toad, and our main entrance is located at its mouth, which is said to invite prosperity and gold in Feng Shui architecture. It's also worth noting that the columbarium has been surveyed and affirmed by an internationally renowned Feng Shui master.
Pristine Location
For Buddhist households, there is significant importance placed on the three great Buddha — Shakyamuni Buddha (Buddha), Guanshiyin Bodhisattva (Guanyin), and Ksitigarbha Bodhisattva, as it is said that they protect the three realms of Heaven, Earth, and Human Beings. If this assurance is what you seek, consider placing your ancestral tablets at Nirvana Columbarium, where the three golden Buddha statues can be found sitting in the middle of the hall, looking over the spirits of those resting in it. Walking into the premise, you will feel the tranquillity and peace that your departed loved one deserves. Additionally, given the vastness of the columbarium, you don't have to worry about space constraints when performing rites like the burning of joss sticks.
Dedicated Services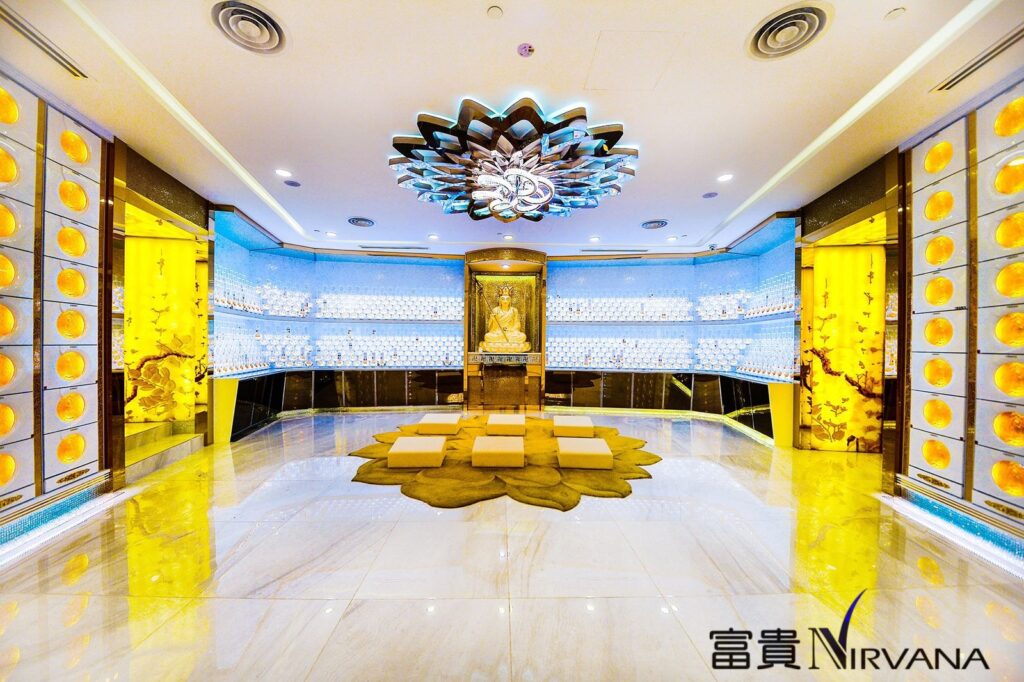 With so much reverence shown towards our ancestors, it's safe to say that great care should be taken in maintaining both your ancestral tablets and the environment they are placed in. Given how hectic life in Singapore can be, this is sometimes difficult to achieve. This is where Nirvana Columbarium can come in handy, as we offer a variety of dedicated services, such as regular and thorough maintenance of the premises. The place is well lit and recordings of Buddhist scriptures are constantly playing in the background. To top it off, the place is air conditioned, which provides a comfortable environment for you and your family during visitations. Nirvana Memorial Garden will also take over the preparation of food and other essentials during important events, including the all-important An-Ling service, where daily vegetarian meals and tea will be served to your ancestors for 49 days, with staff also offering prayers to invite them to eat.
We have dedicated consultants present to answer your enquiries and provide assistance when required. Our ancestral tablet package starts from $5000 and you get to enjoy these benefits with just an additional one-time maintenance fee. A 0% interest free instalment option over a 24-month period is available! For more information about the various benefits and services that we offer at our columbarium, please visit our website.